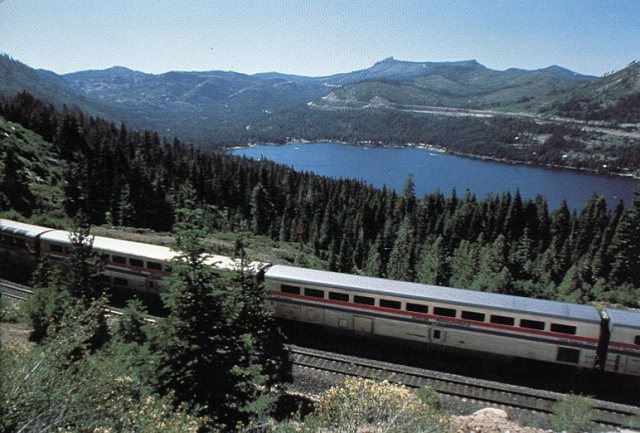 Over the last three weeks my BF Dick and I have traveled a lot. We've traveled by plane and train across the U.S. and by automobile on shorter trips in the eastern part of the country.
Our trips
By car

to a town in Maryland near Washington, DC where I competed in a Toastmasters' Humorous Speech Contest. And won;
By car to Albany for my BF's college reunion, stopping to visit relatives in New Jersey;
Dick went by airplane to a conference in Phoenix and then on to San Francisco to participate in a study of aging pilots, and I  flew to San Francisco to meet him.
By Amtrak train on the legendary California Zephyr from San Francisco through the Sierra Nevada and across the Rockies to Chicago and on the Capital Limited to Washington, D.C .
Our observations
Travel by commercial airliners is becoming more and more burdensome, uncomfortable, and uncivilized
For me, it's a bunch of things: long lines, the need to remove my shoes and take my laptop out of its carrying case; the airplanes packed with passengers, many intruding into  my personal space; the lack of real food, and the delays which require me to race breathlessly to the gate for a connecting flight, schlepping a heavy non-wheeled carry-on as well as I can.
Travel by train offers spectacular scenery, congenial company, and flavorful food
The U.S, particularly in the west, is a huge, spectacularly scenic country with much open uninhabited or barely inhabited areas. On Amtrak trains, meals are served in a dining car with community dining, being seated at a table with one or two other people.
There is a choice of meals, and those who served us were friendly, personable, and helpful. If the train is not so crowded, diners can sit and talk and drink endless cups of coffee as Dick and I and those at our table did several times on our trip.
Our companions
We met many people and heard many stories along the way, and despite the fact that we arrived back home on Election Day (We voted early before beginning our travels), there was no discussion of contentious, polarizing issues so prevalent in the newspapers and on TV for much of the year. The people with whom we dined were mostly over 50 and talked mostly about their children and grandchildren, their work, and their health. Some stories:
Barbara: On the first leg of my airplane trip to San Francisco, I sat next to a woman flying home to Utah. We fell easily into conversation, and talked at length about the great increase in diabetes in the US over the past 15 or 20 years. Barbara told me about a family member who is very obese, had gastric bypass surgery, lost only 40 pounds, and now eats as if she's trying to regain what little weight she lost.
Julia: On the train Dick and I talked to a grandmother from California, whose first grandchild was born when she was only 38.  Julia had home-schooled children and worked in an after-school program, and her son had asked her to home-school his son Michael. The two were on the trip of a lifetime to teach Michael about early U.S. history. They were headed to Monticello, Philadelphia, Washington, D.C., Boston, and Quincy, Massachusetts.
We talked over our meal for a long, long time. Finally, Michael, yawning, excused himself to go to the roomette to sleep. The three of us stayed for quite a while, talking and drinking coffee. Suddenly Michael reappeared, asking "Is it too late for desert?" It wasn't, and one of our servers joined in the conversation as we swapped stories until we all retired for the night.
William: He was a quiet man going home to Florida. William alluded to life changes when we started to talk. He mentioned having been diagnosed and treated for cancer. As he talked, it occurred to me that William's wife must have died rather recently and that he was grieving her death and was not ready to talk about it. His mood lifted visibly, though, when he told us about his two grandsons, especially the youngest one.
Dick says that nowadays trains are the only way to fly, and I agree. What do you think? Any travel stories to share–the good, the bad, or the really awful? Any travel tips? Sharing your story may help others or just make you feel a little better.